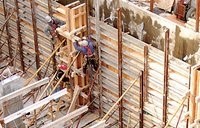 MCKOY LAW, Attorneys-at-Law, have successfully represented owners (public and private), developers, general contractors, construction managers, architects, engineers, subcontractors, material suppliers and sureties in all aspects of the construction industry.
We understand all phases of the construction process, including the development of initial project concepts, land acquisition and permitting, financing, contract negotiation, preparation of bid and contract documents, bid protests, construction administration, claims preparation, negotiation, mediation and/or litigation and final project close-out. We will work in virtually every type of construction project: commercial, residential, recreational, educational, healthcare, retail, heavy construction, infrastructure, historic, manufacturing, hotel, airport, domestic, international, public and private.
We bring years of practical knowledge and actual experience in the construction industry. In addition to representing clients, we can serve as arbitrators, mediators and adjudicator in complex construction disputes. We know the construction process and use this knowledge to develop strategies and approaches to deliver the highest level of legal services in a cost-effective manner.
Site Control, Financing, Entity Creation
MCKOY LAW provides advice on site acquisition, permitting and financing issues. We will handle all aspects of project acquisition and financing, including due diligence, regulatory and corporate securities issues. We also work with our clients to create and form appropriate operating entities such as corporations, partnerships, business trusts and joint ventures.
Drafting and Negotiating of Bid and Contract Documents
We will prepare and negotiate all forms of complex design and construction agreements, including lump sum, cost-plus, design-build and fast-track contracts. We are knowledgeable and experienced in the risk allocation process, which is a crucial element of every agreement.
Contract Award/Bid Protests
MCKOY LAW, Attorneys-at-Law, represent both clients who seek to protest bid improprieties and errors as well as clients who wish to defend a contract which has been awarded to them.
Project Administration Assistance
The Attorneys-at-Law at MCKOY LAW can also offer valuable assistance during the actual building process. Throughout the term of the project, we assist clients by analyzing and interpreting contracts and by planning and taking steps to resolve issues or to preserve claims or defences. We are familiar with insurance issues and programs, including the Owner Controlled Insurance Program and the Contractor Controlled Insurance Program. We will handle your construction insurance disputes in the event an insurer declines coverage and/or defence, or issues a reservation of rights letter.
Claims
MCKOY LAW, Attorneys-at-Law, will prepare, present and fend complex construction claims. Our lawyers will work with claims involving variations, unanticipated subsurface conditions, defective work, delay, suspension, interference, acceleration, defective design documents, damages and other claim issues.
Project Management
We can handle administering the completion of troubled projects, including preparation of completed bid packages, overseeing the award of contracts, monitoring and arranging for supervision of the completion of the work and termination and default claims.
MCKOY LAW
Attorneys-at-Law
19 Holborn Road
New Kingston, Kingston 10, Jamaica
Telephone (876) 926-4319 (876) 926-4319
Fax (876) 960-1571
Email: This email address is being protected from spambots. You need JavaScript enabled to view it. This email address is being protected from spambots. You need JavaScript enabled to view it.