LLB, LLM, MSc, Dip Shipping, Attorney-at-Law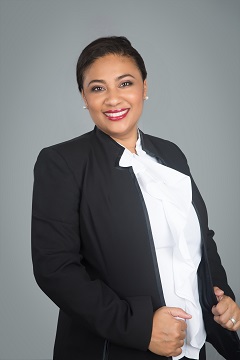 Kerry-Ann is an Attorney-at-Law in Jamaica and Barbados with considerable experience in shipping law and maritime management. Kerry-Ann was a Marine Pollution, Surveillance and Control fellow with the Japan International Cooperation Agency, Urasoe City, Okinawa Japan. Kerry-Ann also has considerable experience with project planning and implementation.
Education
Kerry holds the Master of Science (MSc) in Maritime Safety and Environmental protection, from the World Maritime University, (IMO) Malmo, Sweden; Master of Laws (with Distinction), International Maritime Law Institute (IMO), Msida, Malta; the Certificate of Legal Education, from Norman Manley Law School, Mona, Jamaica; Diploma in Shipping Logistics, Jamaica Maritime Institute (now the Jamaica Maritime University), Kingston, Jamaica; Bachelor of Laws (LL.B.) with honours, University of the West Indies, Barbados, Cave Hill Campus.
Training
Kerry-Ann was a Legal Trainee, Holman, Fenwick & Willan, Solicitors, Marlowe House, Lloyds Avenue, London UK, where she was exposed to the general care and attention attendant to the efficient running of a Civil Litigation Practice;, including the efficient running of a large admiralty practice in the City. She understudied Senior Counsel in research and case preparation; Attend client meetings and briefings; Research and advice.
Professional experience
Kerry-Ann was General Counsel at M/VL Stockbrokers Limited, Country Manager with UPS Supply Chain Solutions (Ja.) Ltd (where the responsibilities included management of the Jamaican arm of a large multinational shipping and logistics company, including, monitoring of margins; overseeing operations, dealing with all HR matters, revenue collection, finance and accounting management sales and service for freight, small package and service parts business). She was a Sub-Lieutenant Jamaica Defence Force Coast Guard (NR), where her duties included assisting the regular forces in the execution of their duties, patrolling Jamaican waters to protect against illegal fishing and Drug traffickers, search and rescue operations, and Maritime Safety and Security responsibilities.  Kerry-Ann also served as Managing Director, M/VL Stockbrokers Limited, Kingston, Jamaica where her duties included licensed trading on the Jamaica Stock exchange, advising clients on investment portfolio, analyzing financial data and stock market information, analyzing company performance, and representing the firm at Jamaica Stock Exchange Meetings.
Kerry-Ann was a Lecturer at Caribbean Legal Practice Institute (Lecturing on the paralegal programme). She is now an Adjunct Lecturer at the Caribbean Maritime University. She lectures on a variety of subjects in the B Sc and Diploma in Shipping Logistics Courses, including, Maritime Law, Carriage of Goods by Sea Law, Broking and Chartering, Maritime Insurance, International Trade and Finance.
Kerry-Ann also served as Consultant Legal Officer, Ministry of Transport and Works Kingston, Jamaica. Responsibilities include participation as legal officer on the Project Unit that created the Maritime Authority, providing oversight for drafting the Jamaica Shipping Act and its passage through Parliament. She worked with the other members of the project unit to conceive and create the legal framework giving rise to the Maritime Authority. These objectives were achieved and Jamaica was White Listed as a result of the success of the Project Unit.
MCKOY LAW
Attorneys-at-Law
19 Holborn Road
NEW KINGSTON, KINSTON 10, JAMAICA.
Telephone: (876) 960-1570 (876) 960-1570
Fax: (876) 960-1571
This email address is being protected from spambots. You need JavaScript enabled to view it.